Why Burn?
Why Burn presents an introduction to prescribed fire. Learn about the variety of reasons for conducting prescribed burns. Listen to experts present perspectives from conservation and forestry points of view. Virtually visit with landowners as they share their reasons for conducting prescribed burns. Discover resources that can help you take action.
Learning Outcomes
After completing Why Burn, you should be able to:
describe why burns are conducted
identify resources for conducting burns
compare burn objectives for landowners.
eFIRE Guided Experience: 1.5-2 hours of study + assessment with multiple choice questions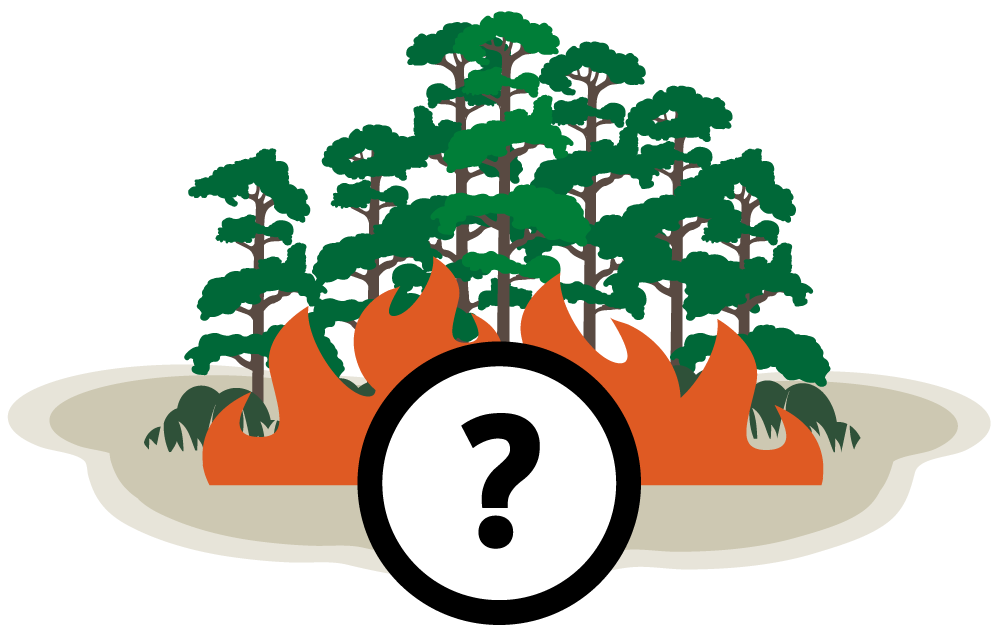 Fire
History and Ecology of Fire in the Southeast
In the 1800s, fire could be found nearly everywhere in the United States, although some places more frequently or more intense than others. Within the Coastal Plain and other regions of the Southeastern U.S., low-intensity fires regularly swept across the landscape due to both human factors and lightning ignition. Native Americans used fire for many different purposes, ranging from cultivation of plants for food, medicine, and basketry to altering the landscape for game management or travel (Pyne 1982; Anderson 2005; Abrams and Nowacki 2008). Because of the historical presence of fire in the Southern region, plants and wildlife evolved adaptations to ensure survival within these fire-dependent communities.
After European settlement, major changes to the way fire was used occurred throughout North American forests. Vast amounts of land clearing for agriculture, as well as logging to provide fuel for heating, powering steam engines, and industrial production took place. Logging slash (residual debris) contributed to large, catastrophic wildfires. In response to these devastating wildfires, most forest management became dominated by wildland fire suppression. In many cases, this fire suppression caused the forest structure and plant composition to change over time since much of the land in the Southeast actually needs periodic fire to remain healthy.
An example of an ecosystem that suffered due to fire suppression and extensive harvesting operations is longleaf pine (Jose et al. 2006). The longleaf pine ecosystem's historical range covered much of the Southeast from Virginia to Texas, but has been significantly reduced during the past century due to lack of fire, among other things. Efforts are now underway to restore this ecosystem that supports a variety of plants and wildlife, economic value, and aesthetic beauty through the use of prescribed fire.
Present Use of Prescribed Fire
Today, many prescribed burning programs have been successfully developed across the U.S., especially in the Southeast. A majority (51%) of all recorded prescribed fires in 2011 occurred in the Southeast (Melvin 2012). In Florida state forests alone, more than 246,000 acres were treated with prescribed fire in 2014, the highest number ever reported by any state forestry agency in the country. Fire program size, permitting process, laws, rules, regulations, and training opportunities vary by state, although most states in the Southeast do offer a certification program for those who practice prescribed burning, including private landowners and consultants.
However, even with the amount of burning that is being conducted in the Southeast, the current use of fire has not kept up with or even come close to historic levels (Ryan et al. 2013) and many forests still don't have fires that occur at the appropriate scale or frequency. Since most of the land in the Southeast is privately owned, it will be important for private landowners to play a role in bringing fire back to the landscape.
Why Burn?
Prescribed fire is a safe way to apply a natural process, ensure ecosystem health, and reduce the wildfire risk to people, homes, and natural resources. It is also one of the most versatile and cost-effective tools that landowners and land managers use.
Fire benefits the ecosystem in a variety of ways. Fire is responsible for enhancing forest aesthetics and managing competitive vegetation. Wildlife benefit from an increase in food and browse and the habitat maintenance brought on by fire when herbaceous cover is controlled. Prescribed fire is used to reduce hazardous fuel (live and dead flammable plant material) buildups, thus reducing wildfire risk and providing increased protection to people, their homes and the forest. Other uses include disease control in young pines, range management, preservation of endangered plant and animal species and the maintenance of fire-dependent ecosystems. Fire has the ability to encourage germination, growth, and increase nutrient availability for desired plant species, including some valuable timber species, while getting rid of many undesirable plants.
Whether you are managing your land for wildlife, timber, recreation such as hiking, hunting or bird-watching, or you just want to keep your woods healthy, prescribed fire provides an inexpensive way to reach these goals.
For more information, please explore pages 1-10 in Introduction to Prescribed Fire in Southern Ecosystems.
Sources:
Abrams, M.D. and Nowacki, G.J. (2008). Native Americans as active and passive promoters of mast and fruit trees in the eastern USA. Holocene 18: 1123–37.
Anderson, M.K. (2005). Tending the wild: Native American knowledge and the management of California's natural resources. Berkeley, CA: University of California Press.
Jose, S., Jokela, E., & Miller, D. L. (2006). The Longleaf Pine Ecosystem: Ecology, Silviculture, and Restoration. (B. N. Anderson, R. W. Howarth, & L. R. Walker, Eds.) North. Springer.
Melvin, M. (2012). 2012 National Prescribed Fire Use Survey Report. Coalition of Prescribed Fire Councils, Inc. Technical Report 01-12.
Pyne, S.J. (1982). Fire in America: a cultural history of wildland and rural fire. Princeton, NJ: Princeton University Press.
Ryan, K.C., Knapp, E.E., & Varner, J.M. (2013). Prescribed fire in North American forests and woodlands: history, current practice, and challenges. Front Ecol Environ: 11 (Online Issue 1): e15–e24.
Professional Perspectives
Meet prescribed fire experts from several agencies and organizations. Each discusses the role of prescribed fire in meeting their own agency or organization objectives, while also providing perspectives on landowner involvement. While the representatives shown here are from North Carolina, the agencies and organizations that they represent are found throughout the Southeast. Every Southeastern state also has state Forestry and Wildlife agencies that can provide you with more information for the state in which you live.
Listen as they respond to questions from their respective points of view, such as:
What objective does your agency hope to meet by promoting prescribed fire?
What resources does your agency offer for landowners wanting to implement prescribed fire in their land management plan?
What are challenges for landowners implementing prescribed fire?
What are the benefits for landowners implementing prescribed fire?
How do conservation and prescribed fire fit together?
Conservation Perspective
Margit Bucher
Assistant Director of Science and Stewardship, The Nature Conservancy, North Carolina Chapter
While working as the Fire Manager for The Nature Conservancy, North Carolina Chapter, Margit Bucher oversees the fire program. The Nature Conservancy's objectives are to preserve and protect endangered ecosystems. Fire is a vital tool in their tool kit. She works with her staff to put the right fire in the right place at the right time. In order to achieve this goal she trains her staff, plans, and maintains resources in order to conduct controlled burns safely. Fire doesn't recognize boundaries, so working collaboratively is essential in conducting controlled burns or addressing wildfire risks. Working with partners and sharing resources makes it more efficient to meet management objectives as a team.
Robert Horton
Resource Conservationist, North Carolina Natural Resources Conservation Service, U.S. Department of Agriculture (USDA)
Robert Horton is a Resource Conservationist for the U.S. Department of Agriculture (USDA) ecological science staff within the Natural Resources Conservation Service (NRCS) in North Carolina.
The NRCS offers voluntary programs to eligible landowners and agricultural producers to provide financial and technical assistance to help manage natural resources in a sustainable manner, such as through the use of prescribed fire. Robert explains how the NRCS administers the Environmental Quality Incentives Program (EQIP) for prescribed fire, as well as the process to become enrolled in a NRCS program, how to reach an NRCS agent in your area, and requirements of a contract.
Wildlife Perspective
Susan Miller
Fish and Wildlife Biologist,
U.S. Fish and Wildlife Service (USFWS)
Susan Miller has been working with the USFWS as a fish and wildlife biologist for more than 14 years. She works in the sandhills region of North Carolina focusing primarily on intensive monitoring of the red-cockaded woodpeckers.
Red-cockaded woodpeckers are one of eight woodpecker species found within the state of North Carolina. They can be found roosting in live pine cavities. These unique woodpeckers prefer longleaf pine, but have been found to inhabit other pine habitats. At one time, there were an estimated 1.4 million family groups at the height of the historical longleaf range.
Red-cockaded woodpeckers exist in territorial family groups consisting of one male and female breeding pair. Helpers within the family will aid in raising, incubating, and feeding young. These family groups need old growth pines for cavity creation and large patches of intact forest. They prefer to live in longleaf forests that are on a 3-5 year fire regime interval. Red-cockaded woodpeckers have evolved within this pine ecosystem and depend on fire to maintain their preferred habitat with grasses, insect diversity, and openness for predator detection.
Please explore the U.S. Fish and Wildlife Service fact sheet for more information on the red-cockaded woodpecker.
Kelly Douglass
Forest Stewardship Biologist, North Carolina Wildlife Resources Commission (NCWRC)
Kelly Douglass works with the North Carolina Wildlife Resources Commission (NCWRC). She serves as a Forest Stewardship Biologist. Her primary role at the NCWRC is to aid private landowners in managing their property for wildlife. One component of her job is to educate individuals of the importance of fire for maintaining an ecosystem suitable for a variety of plant and wildlife species.
Forestry Perspective
Chad Brandon
County Forester, District 5 (Rocky Mount, N.C.), N.C. Forest Service (NCFS)
Chad Brandon is a forester for the North Carolina Forest Service (NCFS). He works out of the Rocky Mount District 5 office that covers a nine-county area within the Piedmont and Central Plains of North Carolina.
Landowner Perspectives
Now that you are more familiar with the use and benefits of prescribed fire and heave heard some agency perspectives, let's virtually "visit" a few sites. At each site, you will meet the landowner or land manager, learn more about his or her management objectives, and find out what to expect when you manage your forest with prescribed fire.
Lighterwood Farm, Jesse Wimberley, Landowner
Rose Hill, Brandon Price, Burn Boss
Schenck Forest, Jennifer Evans, NC State University
Texas Rangelands, Texas A&M University & Natural Resources Conservation Service Personnel
Resources
Many programs and organizations provide financial assistance, technical assistance, education, outreach, and research support for prescribed fire. Although not all inclusive, the linked table of resources will help you better understand the significant number of programs that currently support prescribed fire in the Southeastern United States.
Assess Your Knowledge
Everyone is invited to complete the eFIRE assessments. If you need assistance, go to the step-by-step guide to self enroll.