How do I Plan for a Burn?
Planning takes you through a step-by-step prescribed burn plan. In our case studies, you will discover what landowners must consider before conducting a prescribed burn.
Learning Outcomes
After completing Planning, you should be able to:
identify steps for preparing for the burn
illustrate safety concerns
explain what resources are needed the day of the burn.
eFIRE Guided Experience: 1.5-2 hours of study + assessment with multiple choice, fill in the blank, and ordering questions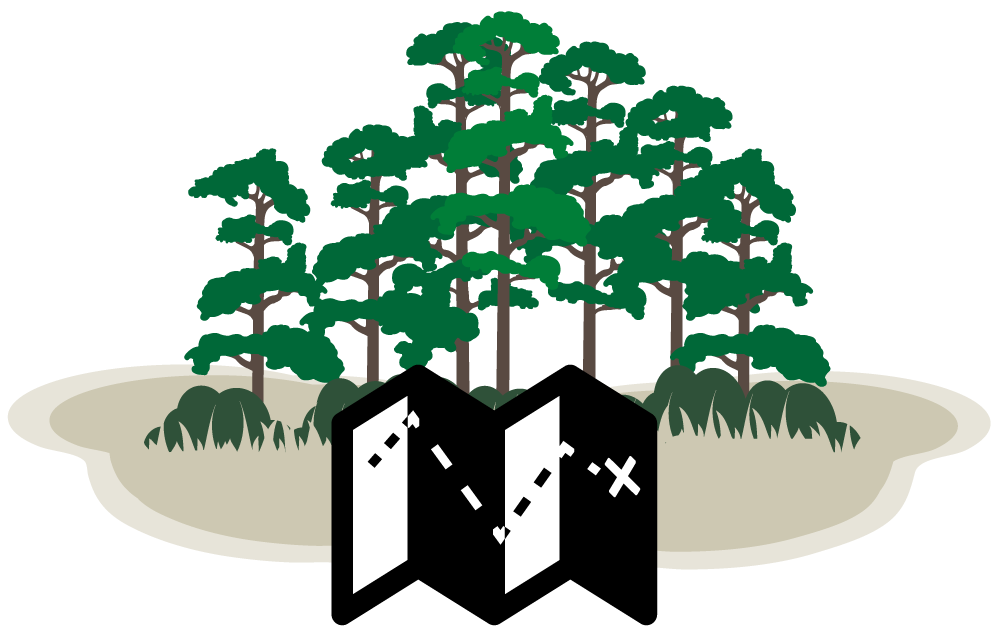 Burn Plan
Before heading out to our sites, let's go through a prescribed burn plan to learn what must be considered and planned before you burn. For our guide, we are using the Simple Understory Prescribed Burning Unit Plan on page 58 in the Introduction to Prescribed Fire in Southern Ecosystems.
Location Details
Landowner: Property owner of burn unit
Permit no.: Complete if a permit is required by the state you are conducting a burn
Address: Address for burn unit [include GPS coordinates, if possible]
Phone no.: Phone number of the property owner
S/T/R: Section, Township, and Range of burn unit, if known
County: County of burn unit
Acres to burn: Planned number of acres to burn
Previous burn date: Date of the most recent burn on the burn unit
Purpose of Burn
What is the purpose of the prescribed fire? Examples could include seedbed preparation, disease and insect control, reduction of hazardous fuels, wildlife habitat management, and/or controlling understory. Specify how the fire is expected to behave to meet objectives. This information will also be useful in evaluating the success of a burn.
Attach a Map
Use mapping tools to draw a map or draw the map by hand. The map should identify boundaries of the planned burn, adjacent landowners, topography, firebreaks (both existing and those needing construction), anticipated direction of the smoke plume, smoke-sensitive features, holding details, and other essential information. Natural barriers may be used to control the fire. Areas that should be excluded from the fire should also be displayed.
Stand Description
Overstory type and size: Describe the overstory type and size
Height to bottom of crown: Fill in the height to the bottom of the crown
Understory type & height: Describe the understory and type (grass, shrubs, small trees)
Dead fuels: Description and amount (grass, timber litter, slash)
Preburn Factors
Manpower and equipment needs: List equipment and personnel needed onsite during the burn and on standby. Personnel should be assigned duties. Both personnel and equipment can be mapped out.
List smoke-sensitive areas & locate on map: Identify all smoke sensitive areas (e.g. residences, businesses, farms, airports) near to, downwind, or down drainage to the planned burn.
Special precautions: Note how sensitive areas will be protected. Smoke management strategies could include avoidance, emissions reduction, and dispersal to minimize adverse impacts at these sites. Items to consider can include historical and archeological sites, streams, habitats of threatened and endangered species, and fragile soils. Don't forget to consider how changes in the forecasted weather will affect your burn plan (and how you will react).
Estimated no. hours to complete: Estimate the number of hours to complete; normally prescribed burns are planned so that they are finished during the day. Fires are ignited in the late morning or early afternoon once morning dew evaporates and surface inversions have lifted from the previous night.
Passed smoke screening system: Use a smoke screening system such as Hypslit, Simple Smoke Screening Model, or VSmoke to make sure that smoke does not affect sensitive sites. Be sure to attach the map with the smoke predictions and for forecasted weather.
Adjacent landowners to notify: Contact all homes and businesses in the area likely to be impacted by the burn. Describe why the burn is being conducted and consider helping smoke-sensitive people leave the premises during the burn.
Weather Factors
This section should include the desired range, forecasted weather, and actual weather, which includes surface winds-speed and direction, transport winds-speed and direction, minimum mixing height, dispersion/stagnation index, minimum relative humidity, maximum temperature, fine-fuel moisture, days since rain and amount. The desired, forecasted weather, and current conditions should be documented before beginning the burn. Current conditions also should be reported during the burn. Documenting that conditions are within the specified ranges is important to supporting the decision to burn. An example of minimum transport wind is 8 miles per hour. An example minimum mixing height is 1640 feet. States can have different specified ranges for prescribed fire. Follow your state's specifications. Stagnation indices indicate the length of time conditions will be appropriate for necessary smoke dispersal. Preferred fine fuel moisture is between 8-15%.
Fire Behavior
Fire behavior includes a desired range and actual data for the fire type, month burned, flame length, rate of spread, and inches of litter to leave). Consider the burning objective when deciding on fire techniques and the month to burn. Fire techniques can vary in intensity from heading fires (most intense and faster fires), flanking fires (intermediate intensity), and backing fires (lowest intensity and slower fires). Most understory burning is conducted in winter whereas summer burns can be used to kill undesirable hardwoods.
Evaluation: Immediate / Future
An evaluation of the burn should be conducted immediately after the burn and sometime in the future. After the burn record the amount of crown scorch, consumption of brush, litter and duff, evidence of fire intensity, and smoke problems. This information is used to determine if the objectives of the burn were met and to help plan future burns.
On-Site Observations
Armed with your knowledge of completing a burn plan, examine the burn plans for our case studies. Visit the landowners and listen as they describe what needs to be done before an actual prescribed burn can be conducted.
Lighterwood Farm, Jesse Wimberley, Landowner
Schenck Forest, Jennifer Evans, NC State University
Texas Rangelands, Texas A&M University & Natural Resources Conservation Service Personnel
Assess Your Knowledge
Everyone is invited to complete the eFIRE assessments. If you need assistance, go to the
step-by-step guide to self enroll.